What Is The Cable Storage Bracket?
About The Cable Storage Bracket
What Is The Cable Storage Bracket?
What Is The Cable Storage Bracket? Hongjing series cable storage bracket is made of carbon steel. The surface is with hot-dipped galvanized treatment which can be used in outdoor for more than 5 years without any rusty or any surface change. It is widely used on poles to collect reserved optical cable on the poles or towers.  Mainly with Hongjing series stainless steel band, stainless buckles and HJ-BK16001.  Assemble on the rod as shown below. There is also another assembly option with the aluminum bracket set shown below.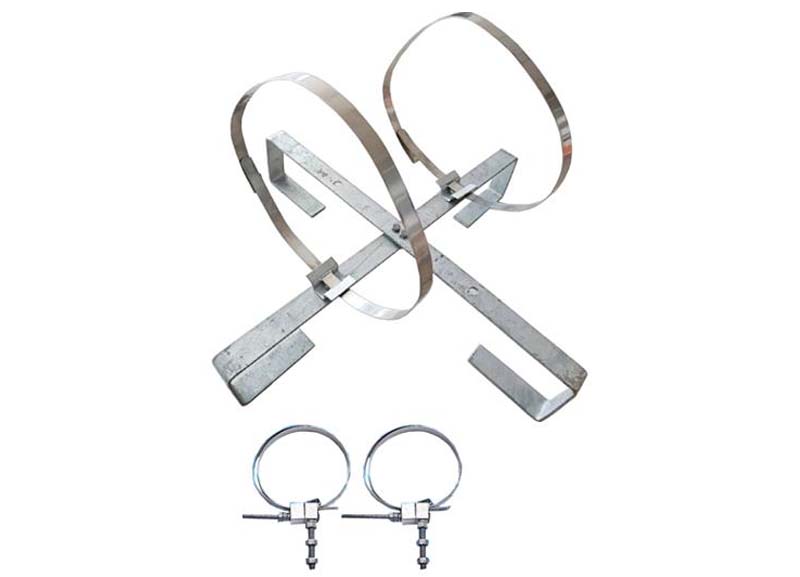 Product Parameters
| | | | |
| --- | --- | --- | --- |
| Item No. | Thickness(mm) | Width(mm) | Length(mm) |
| HJ-ST550 | 4 | 40 | 550 |
| HJ-ST660 | 5 | 50 | 660 |
| HJ-ST1000 | 5 | 50 | 1000 |
Other sizes we can do as your request.
Features:
1. The product after hot dip galvanized anti-corrosion treatment, which has the good outdoor anti-corrosion performance.
2. You can according to the requirements of different optical cables, design to ensure the small bending radius of the cable.
3. It's convenient for the tower installation. It can prevent the cable loose, disorder, strong installation. And it can  protect the cable well, which can avoid cable wear.
Optical cable storage bracket can divides into ADSS cable storage bracket and OPGW cable storage bracket. There are two kinds of rods and towers. Where the rod needs to provide cement rod diameter. The cable residual cable frame includes two cross intersecting metal strips. A square frame with a notch on one side is form when the two ends of each strip are bent up at right angles three times. Its characteristic in that is a closed tray, which can arrang outside the cable tray. The cable tray can fixes on the tray body, and the tray cover can arrange on the tray body.
Four square holes can reserve on the side of the plate body. The square hole can be use to lead the OPGW cable into the residual cable tray. The second square hole can be use for the OPGW cable and inbound cable leading to the connector box. The third hole can be use for entering the station and leading the ordinary optical cable into the cable trench. The fourth square hole can be use for drainage of the cable tray. The ground terminal can weld at the bottom of the tray.
Usage:
The role of optical cable storage bracket is mainly to hang the surplus OPGW optical cable and ADSS optical cable on the tower in the overhead line for maintenance and detection. It is suitable for electric power, communication, railway, overhead, pipeline cable tray. Its appearance of hot dip galvanized corrosion resistance, oxidation resistance. It can be fix on a telegraph pole or a steel tower.