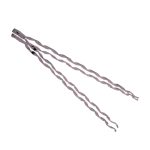 Brace Grips Hot Dip Galvanzied
Hongjing brace ends, also called brace grips, have a special design for holding guy strand. It is used for metal building contruction which could provide 100% or more rated strength of guy strand.
Diameter: 1/4", 5/16", 3/8", 1/2"
Description
Description
Hongjing this type brace grips have special design with extra legs on each grip. We always use them for 1*7 or 1*19 guy strand in metal building construction. It can provide efficient and fast termination for guy strand. The lay direction is left hand.
Normally, the material of this brace grips is hot dip galvanized steel, which can provide 100% rated strength of the guy strand. If you want 110% ones, we also could provide. This material is also anti-corrosion, which ensure grips without rusty in indoor or outdoor applications.
Specification
Below is the sizes of our brace grips.
| | | | | | |
| --- | --- | --- | --- | --- | --- |
| Item No | Diameter | Wires | Length | Rated Strengh | Color |
| HJ-BG006 | 1/4" | 7w | 19.56 inches | 6,650 LBS | Yellow |
| HJ-BG008 | 5/16" | 3w, 7w | 21 inches | 11,200 LBS | Black |
| HJ-BG009 | 3/8" | 3w, 7w | 26 inches | 15,400 LBS | Orange |
| HJ-BG011 | 7/16" | 3w, 7w | 30.5 inches | 20,800 LBS | Green |
| HJ-BG013 | 1/2" | 7w, 19w | 34 inches | 26,900 LBS | Blue |
Above sizes are our regular sizes. If you want other sizes or have other requests, it is also available for us.
Features
It can provide 100% rated strength of the strand. Exact rated strength as above table.
We also could produce this grip in 110% rated strength of the guy strand.
It is easy to install. No special tools needed.
Light weight. Easy to carry as well.
Special design of extra legs allow easy and fast installation of the final part of brace grips.
How to install brace grips?
Choose the suitable diameter.
Put one leg of grip throuth the eyebolt or other ring type bracket.
Insert the strand and twist two wraps around the strand.
Then twist these two leg around the guy strand alternatively until finished this installation.
Package
Our grips are packed in cartons, and then in wooden cases or cages as your request. Normally, we put them in cartons and them in wooden cages.
We also could supply other types dead end grips with different sizes, materials and usages. If you want to know more, please contact us any time!